Careers Hub Lead School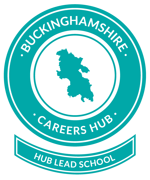 We were pleased to have supported Buckinghamshire Local Enterprise Partnership (LEP) application for a Careers Hub and have had full involvement throughout. As lead school, we have been instrumental in driving the success of the Hub which has made excellent progress in achieving the Gatsby Benchmarks (average of 4.1 benchmarks achieved in the Hub schools).
Careers Lead meetings are organised and chaired by The Misbourne and are well attended and highly respected. We mentor other schools and create a community of best practice by sharing all resources, contacts and approaches to achieving the benchmarks.
Our Careers Leader has demonstrated a solution-focussed approach through her contact with CEC and local council officials over approaches to data collection (GB3) and integration of SIMs. We are trialling the new Compass Careers Dashboard (one of only 6 in the country) demonstrating our willingness to try new approaches and be at the forefront of improvement in careers education.
The Misbourne was Careers Lead of Year (South) 2018 and is one of just three schools in the country to have been shortlisted for the Careers Excellence Awards 2019 - Best School.
To be able to apply for the award our school had to achieve all 8 Gatsby benchmarks and demonstrate how careers is embedded across the school.
Click here to find out all about Careers Education at The Misbourne